Since I have become an author over at
Teaching Blogs Addict,
I have discovered many wonderful and talented teacher blogs. Along the way I find myself hopping into all sorts of interesting blogs. Today I stumbled on to
Cookies and Cups.
I think I gained a few pounds just LOOKING at all the images of wonderful treats. I don't know about your school, but we have "Treat Day" every Wednesday. Teachers & staff sign up to bring treats for everyone. Our staff is so small now that this year I had to sign up for 4 days to bring treats. By my last turn I felt a little burned out....Cookies and Cups has wonderful recipes and photos to go with. This blog definitely gets a HOT TOPIC award, we'll be talking about this one in the lounge at school!
I can't wait to try some of the recipes over the summer and have something new to bring for treat days next school year! Check out Cookies and Cups: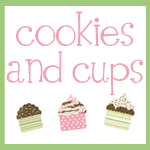 There's also a GREAT idea for creating a treat for kids. My plan is to make these as a WELCOME TO KINDERGARTEN item for next fall!: Pencils they are too cute!